[tab:Case Study]
The Client:
Amberwise help businesses develop, sustain vision & values driven teams in the pursuit of their organisational objectives.
They are based in Australia, Asia and North America with resources supporting performance and change efforts across the UK, Continental Europe, the Middle East and Africa.
The Problem:
They needed to update their website in a hurry. Amberwise had a basic website but it wasn't going to deliver the punch they needed, to quote Joe Bradford 'it's state was embarrassing'. With new partners coming on board and high caliber clients interested in their services they had to move quickly, but get it right.
Amberwise is also made of various principals who also needed to have their input into the design and functionality brief. Logistics was an issue as there were 3 different locations involved for these vested parties.
The website was also lacking graphically and didn't reflect the full nature of the business effectively.
The Solution:
By using our fast track build brief system we were able to collate the majority of the information in a single 2.5 hour session. We ran a group coaching call so all the principals could have their input. At the end of this session all parties had a short action list making it very clear and concise what was needed to move the project forward in the short timeline set.
Within 7 days the site 'style guide' was presented and signed off on along with all the graphical elements created.
The site was then reloaded, with the new information architecture set up and new content added.
The Outcome:
The team at Amberwise first approached us on the 11th January, the contract was confirmed on the 14th and we went 'Live' on the 25th January. So 11 days including weekends so in fact 8 business days the site was rebuilt and had gone 'Live'.
Good looking website
Showcasing all facets of their business
Showcasing clients they worked with
Implementation of blog & testimonials
Showcasing worldwide office locations
Clearer information architecture
Dynamic website so they can mix & match and change as they need to
The Web Results

:

Yardstick Statistics – The stat's below don't mean business success, it is simply an internet yardstick and the world's online view of your website evolvement and improvement.

[column size="1-2″ last="0″ style="0″]
16.01.2012
Google Page Rank – 1
Alexa Rank – 5,109,408
Pages Indexed – 51
Web Traffic – hardly any
[/column] [column size="1-2″ last="1″ style="0″]
16.04.2012
Google Page Rank – 2
Alexa Rank – 809,399
Pages Indexed – 78
Web Traffic – 3,137.50% increase
[/column]
The Client Feedback:
Joe Bradford has endorsed your work as Head Honcho Smarter Websites | WordPress Website Design | Lead Generation | Social Media Marketing at Smarter Websites.

Dear Peter,

I've written this recommendation of your work to share with other LinkedIn users.

Details of the Recommendation: "We called Peter and said we wanted a site fast. The only thing that held it up was us. Peter was professional, patient, extremely good natured and willing to push back where necessary. Delighted with the results that Peter and his team provided."

Top Qualities: Personable, Expert, High Integrity
Julie Smyth has endorsed your work as Head Honcho Smarter Websites | WordPress Website Design | Lead Generation | Social Media Marketing at Smarter Websites.

Dear Peter,

I've written this recommendation of your work to share with other LinkedIn users.

Details of the Recommendation: "Designing and launching a new website can be daunting. But with Peter Butler's expert advice and guidance, along with his talented team of designers and technicians, the rebuild of the Amberwise website was completed in just a week and with the minimum of pain and fuss. Peter's attention to detail and his ability to gather information in order to really understand the nature of our business resulted in a professional looking website that we are thrilled with and proud to show off. Many thanks to you Peter and the team at Smarter Websites."

Top Qualities: Great Results, Expert, Creative
[tab:Before and After] [column size="1-2″ last="0″ style="0″]
Before
[/column] [column size="1-2″ last="1″ style="0″]
After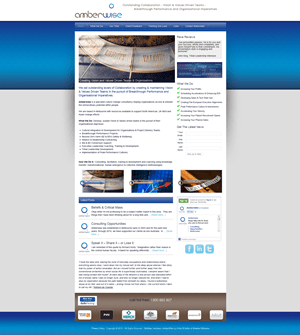 [/column] [tab:Client Reviews]
Joe Bradford has endorsed your work as Head Honcho Smarter Websites | WordPress Website Design | Lead Generation | Social Media Marketing at Smarter Websites.

Dear Peter,

I've written this recommendation of your work to share with other LinkedIn users.

Details of the Recommendation: "We called Peter and said we wanted a site fast. The only thing that held it up was us. Peter was professional, patient, extremely good natured and willing to push back where necessary. Delighted with the results that Peter and his team provided."

Top Qualities: Personable, Expert, High Integrity
Julie Smyth has endorsed your work as Head Honcho Smarter Websites | WordPress Website Design | Lead Generation | Social Media Marketing at Smarter Websites.

Dear Peter,

I've written this recommendation of your work to share with other LinkedIn users.

Details of the Recommendation: "Designing and launching a new website can be daunting. But with Peter Butler's expert advice and guidance, along with his talented team of designers and technicians, the rebuild of the Amberwise website was completed in just a week and with the minimum of pain and fuss. Peter's attention to detail and his ability to gather information in order to really understand the nature of our business resulted in a professional looking website that we are thrilled with and proud to show off. Many thanks to you Peter and the team at Smarter Websites."

Top Qualities: Great Results, Expert, Creative
[tab:END]